Your Association's Digital & Member Experience Guide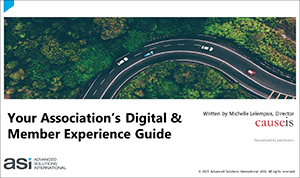 Learn how to Shift Your Association's Culture to Digital in the Coronavirus Era
ASI partner, Causeis, has written a useful, insightful whitepaper on how to improve the member experience (MX), particularly during the coronavirus crisis. Author Michelle Lelempsis, Director of Causeis, outlines a 10-point plan that will help you:
Increase your financial control
Track multi-channel communications
Shift your association's culture to digital
Measure digital engagement
Complete the form to receive your complimentary copy.
Achieve more.